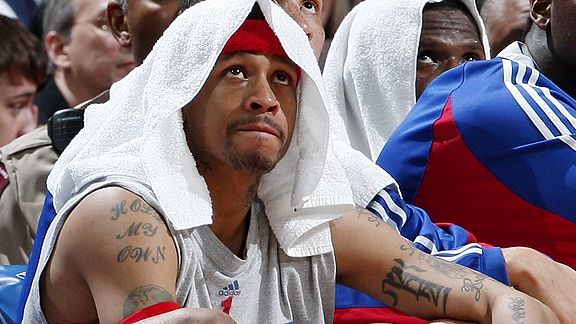 The rational among us never believed that the exodus of a dozen or so
NBA
role players to Europe last summer meant that we should start buying the hysterical stories about
Kobe Bryant or LeBron James
getting one-year overseas offers of $30 million or more.
Apart from the
free-spending
Angelopoulos brothers from Greek League power
Olympiacos
-- better known Stateside as the team that signed
Josh Childress
away from the Atlanta Hawks last summer -- pretty much no one has money to spend over there. Basketball simply isn't a revenue-generating sport in most foreign countries, where tiny, rundown arenas and a skeletal infrastructure are the norms.
It was always more likely, even before the
global economic downturn
hit European basketball harder than it hit the NBA, that the next big name to move abroad would be a former All-Star at the end of his career, just like we saw in the '80s (Bob McAdoo) or '90s (Dominique Wilkins).
Someone like
Stephon Marbury.
Or someone like
Iverson
… assuming he's even interested in playing something other than NBA basketball.
One Eastern Conference general manager immediately tossed out the
European
option for AI, since there would be no shortage of shots, minutes and adulation if he went to, say,
Italy, Spain
or
Greece.

That GM, though, quickly caught himself, remembering how scarce money will be this summer for players seeking international work.
"It would have to be a
Greek team
," he said.