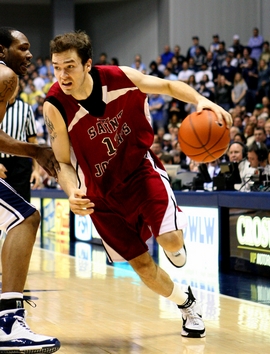 According to italian newspaper
Corriere del Veneto

, Benetton Treviso has set sights on

Pat Calathes

who wasn't drafted and will try to seek his luck abroad. After

Dashaun Wood

and

Gary Neal

Benetton wants to sign

Calathes

to make a competitive team for the Uleb Cup competition.

Sources from Greece say that

Pat Calathes

has

not

acquired his greek passport yet which means that he might have to sign as an import player to begin with. The article does not mention if the negotiations have proceeded at all. One might think that Calathes having a

greek passport

would interest mostly

greek teams

as he won't occupy an import or EU player in the roster.

Last season he averaged 17.5 points 7.5 rebounds 2.7 assists and 1.2 blocks per game. Pat Calathes is a tall(2.09) small forward with great court vision and passing skills. It remains to be seen if he will play in that position in Europe or moved to the power forward position.