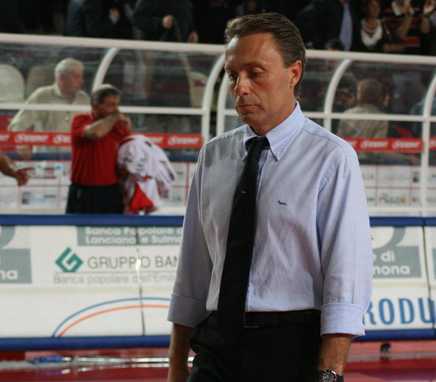 Napoli
today announced via their website that they have
ended
their contract with head coach
Piero Bucchi.
According to italian media Bucchi is being offered the position of head coach to
Armani Milano
for next year.
Napoli in their announcement thanked Bucchi for his work with the team and wished him all the best in the future. Bucchi started as an assistant coach to
Ettore Messina
and made his career in teams such as
Rimini, Benetton, Slask Wroclaw, Napoli and Roma.
Rumors in Italy say that all the moves are being directed by Messina himself that might probably return for the year
2009-2010
as head coach and Bucchi as his assistant.
Bucchi is rumored to bring
Richard Mason Rocca
(2.06-PF/C) with him from Napoli and is already planning the roster for next year as quite a few players have been lost so far like Smith, Green, Bulleri, Watson and potentionally the great hope of italian basketball Luca Vitali.