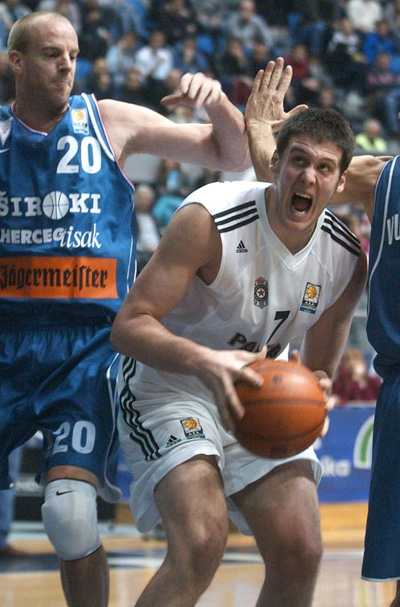 Kosta Perovic
(2.18-C) is a name in the long list of european players that just couldn't cut it in the
NBA
. Nevertheless he might be the answer to the prayers of Valencia that were looking for one more player to cover their front line.
The 23-year old serbian center left Partizan with high hopes and was signed by the
Golden State Warriors
last season after he was drafted at number 38 in the 2nd round of the 2006 Draft. Perovic unfortunately was another decorative 7-footer in an NBA roster but in Europe he can make a difference.
The roster of
Pamesa Valencia
was almost complete until Tomas Van Der Spiegel decided
not
to sign with them and go for a higher paying contract. According to spanish newspaper
terra.es
Kosta Perovic seems to be the main target of coach
Katsikaris
who sees in him the last piece of the puzzle.
Perovic only managed to play 7 games last season and averaged 1.4 points and 1.9 rebounds.